The stamp of quality

A home from home

Special places to stay
TURIHAB's 30th Anniversary
TURIHAB's 30th Anniversary event brought together Portugal's seven regional Tourism Presidents newly-appointed since the recent election. The day's discussions, debates and presentations were useful and interesting for every-one present. The separate presentations of each region's foods were also delicious in any language!
This video prepared for TURIHAB's 30th Anniversary shows there is much to see and do, and where Solares de Portugal and Casas no Campo country retreats are available, throughout Portugal's very different regions.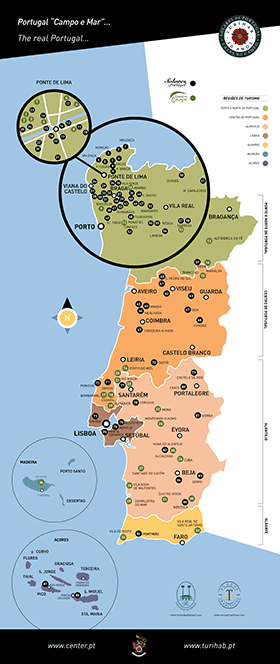 As long-time visitors to Portugal, my wife Margaret and I were delighted to come to TURIHAB's 30th Anniversary event. Our lack of Portuguese was made up for by reading body language. The music, videos and the wonderful regional food translated perfectly! We could tell the event proved very interesting to the TURIHAB members present. It was also particularly worthwhile because this was the first time the new Regional Tourism Presidents had been brought together. Many months of preparation work by TURIHAB's Team should prove a useful foundation if the event were to be repeated just after the 2018 elections. I was fortunate to have just returned from my first ever trip outside Europe – an action-packed month in Australia. The experience allowed me to highlight the importance of stressing how much there is to see and do in Portugal if more people are to be encouraged to visit, and to plan a longer stay than they would otherwise.
Margaret and Brian Angus
Frequent TURIHAB Guest from UK
It was a pleasure to be a guest on the TURIHAB 30th anniversary. It was a beautiful day, it was a magnifique location! It was a immense surprise receiving from TURIHAB an award for our efforts in promoting and selling the Solares de Portugal and Casas no Campo.
But of course we only can have these results with a good product to sell. The style of the houses, so cosy so authentic. The way the owners are offering there house in such a special way. So personnel, so hospitable, so tender, so different! It's another kind of tourism. For us is offering these quality houses a good way of promoting tourism to Portugal promoting tourism to the different areas.
The owners of the houses are the golden medal of TURIHAB.
The way mister Calheiros and misses Maria do Ceu are promoting TURIHAB needs a special note.
The way how they are doing this with all their enthusiasm and passion is indescribable Let's go on in this way. Let's expand the Solares de Portugal more in the foreign markets.

Girassol Vakanties is honoured to be a TURIHAB's partner!
Otto-Mark Schaap
Girassol Vakanties Holande Director