Special places to stay

A home from home

The stamp of quality

you arrive as a guest and
you leave us as a friend
TURIHAB - Historic Housing Tourism Association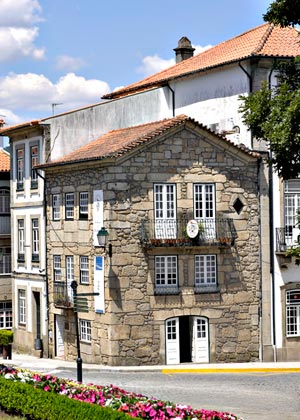 TURIHAB, located in Ponte de Lima, Northern Portugal, was founded in 1983. Ten years later, when it organized the First Historic Housing Tourism National Meeting, it created the brand Solares de Portugal.
TURIHAB received the Prize of the European Year of Tourism (1990), the Gold Medal of Tourism Merit, and the European Tourism and Environment Prize, and the honorable mention .Architectural Heritage .(1995). It received European Commission mention, .Towards Quality Rural Tourism - Integrated Quality Management of Rural Tourist destination. (1999); it received from the Association of Tourism Journalists, the prize of Tourism Personality (1999), and the Federation of European Journalists Prize, for its European Web Project - .Europe of Traditions. (2002).
The certification of TURIHAB, CENTER (2005), with the ISO9001, and the Solares de Portugal network with the ERS3001:TER (2006) and NP4494:2010 (2011) underlines our total commitment to implementing the strict regulations that govern tourist country accommodation and reinforces our determination to maintain and continually improve our services that merit the AICEP Marca Portugal (2006).
To achieve and guarantee the quality offered by Solares de Portugal is the result of 30 years of effort of TURIHAB, its partners and, most of all, its association of owners without whom it would not be possible to create a national system of this nature and size. This commitment to providing high quality accommodation in distinctive family properties is reflected at the European Union level through the network "Europe of Traditions"(www.europetraditions.com) and in the South American Mercosul countries with the "Fazendas do Brasil"(www.fazendasdobrasil.com).
TURIHAB presented a new brand: Casas no Campo - These are country houses or villas carefully restored to be reconverted into rural tourism with very high stander of quality.
The logo of TURIHAB reflects the authentic and a personalized way to know the particularities of each region, its festivities, gastronomy, its customs and traditions, and includes the symbols of the pheasant (simplicity), the rose (beautiful and secret), gold (justice), silver (friendship), red (worthiness), and green (courtesy).
TURIHAB – Historic Housing Tourism Association – summary:
Headquarters in Ponte de Lima
Created the brand Solares de Portugal
Created the brand Casas no Campo
Constituted three International Consortia – Europe of Traditions; Fazendas do Brasil e Europe of Traditions – EUROTRAD
Organised ten Internacional Seminars with the Consortia Partners
Organised four Historic Housing Tourism National Meetings
Founder of ADRIL - Associação de Desenvolvimento Integrado do Lima
Founder Member of ADETURN
Constituted CENTER – Central Nacional do Turismo no Espaço Rural together with ATA – Associação do Turismo de Aldeia
Member of the National Board of Tourism
Member of Comissão Portuguesa de Normalização para o Turismo – CT 144
Member of Comissão de Acompanhamento para o Turismo do Norte de Portugal
Received the European Year of Tourism Award in 1990
Won the Personality award "Portugal Turismo actualidade" in 1993
Received the European Tourism and Environment Prize - Honorable Mention "Ponte de Lima – Special Jury Prize for the restoration of Architectural Heritage" em 1995
Received the 1995 Gold Medal of Tourist Merit
Received the award from Associação dos Jornalistas Portugueses de Turismo, "Tourist Personality "of the year 1999
Received the Award from Federação de Jornalistas Europeus, for the "Europe of Traditions" European network Project in 2002
Certified with the ISO 9001/2000, developed the ERS 3001 – Service Requirements Specification in Historic Housing Tourism and Turismo no Espaço Rural for the certification of the Solares de Portugal in 2006
The brand Solares de Portugal received the "Marca Portugal" certification, from AICEP in 2006
Received the Prize awarded by APCER for Pioneering of TURIHAB in the certification of Tourism in Portugal, in 2009
Honorable Mention awarded by Turismo de Portugal as part of the 2010 Tourism Awards, in the Quality of Service category
Participated in development and design of the quality norm for Historic Housing Tourism and TER – NP4494:2010, promoting its implementation through the certification of the Solares de Portugal e Casas no Campo networks
Developed the project "Creation of equestrian itineraries", promoted by Turismo de Portugal and in a shared action with Turismo do Porto e Norte, with the definition and creation of a methodology and requirements applicable to Equestrian Tourism in 2011
Completed in 2019 the project SIAAC – "Solares de Portugal Internationalization" for international promotion of Historic Housing Tourism and TER in Portugal